Scenic Train Journeys in Europe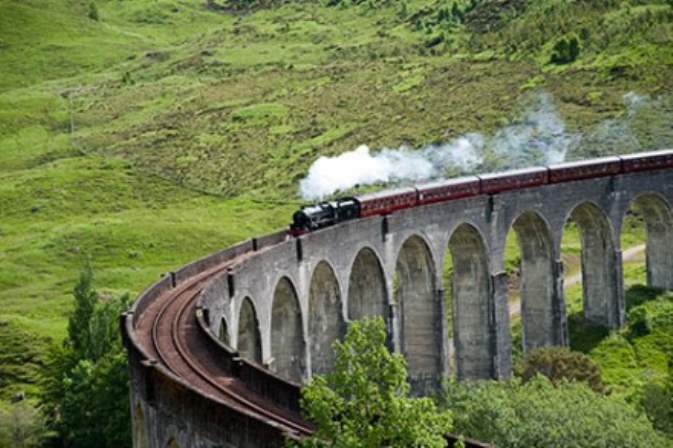 One of the seven continents, with a blend of natural beauty and modernity at its peak, Europe is a tourist's delight. It also has the honor of being the richest region in the globe and hence attracts people for trade and commerce. But be it for business or pleasure, there is nothing more exquisite then traveling to different destinations in Europe by train and enjoying the attractions they offer.
Train Journeys in Europe can be ideal for people looking for great family vacations as they allow people to explore great places rich in culture, history and heritage. Also during night travel, the trains move at a steady and leisurely pace, to make sure that the travelers, especially children, get sufficient rest, leaving them refreshed to face the day.
Prioritize and choose your option (Rail Pass or Rail Ticket)
It's best to choose what you intend to do in Europe, and make a list of the places you want to visit. If it's a short trip it's advisable to buy point to point tickets at the stations, as you travel. You can get better options and make your journey cheaper if you book the point to point tickets online. Other than that, you can also opt for Railway Passes especially, especially if you under the age of 26, as they are cheap. There are options like 'Global Passes' which cover most of Europe and are ideal for tourists. Regular travelers can opt for 'Continuous Passes' which allow unlimited travel for a specified number of days and 'Flexi Passes 'which offer unlimited travel on the days specified by the traveler.
Some Soothing and Scenic Train Journeys in Europe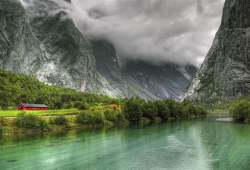 The picturesque scenic beauty of the Rauma River (pictured right) surrounded by the craggy mountain ranges, the grandeur of the Kylling Railway Bridge (pictured top) and the beauty of the plateaus can be enjoyed, while travelling from Dombas to Andalsnes. In this scenic journey, you will cover a distance of 114 km, in one and a half hours.
You can experience one of the steepest railway routes in Europe and enjoy the alluring beauty of the Hardangervidda Plateau, while travelling between Oslo and Bergen via Flam in Norway. This journey covers a distance of 550 km in nine hours by train. It can be enjoyed during both summers and winters.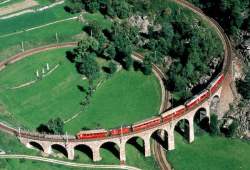 Covering a distance of 67 kms in one and half hours from Fort William to Mallaigh in Scotland, this journey gives people a view of isolated small lakes, glimpses of coastline and rugged highlands. You can have a once in a lifetime experience of travelling through two major World Heritage Rail Lines, The Albulia Rail line of Switzerland and the Bernina Rail Line connecting Switzerland and Italy (shown right), while travelling from Chur To Tirano, a distance of 123 km covered in four hours, while enjoying the panoramic view of the Alpine Mountain Range.
Another train journey that should not be missed is a trip between Zermatt and St. Moritz, onboard the Glacier Express, which travels through the flawless alpine landscapes and mountain ranges of eastern and western Swiss Alps. The Glacier Express takes people to some of the most reputed ski resorts in Switzerland, and it covers a distance of 291 km, in seven and a half hours. The breathtaking sight of sparkling lakes and splendid mountain landscapes can be enjoyed while travelling from Munich to Innsbruck, covering a distance of 157 km in three hours. During this journey one can also view the Zugspitze, the highest mountain range in Germany.
The trains in Europe offer a wide range of facilities making it very comfortable for people to travel from any city to the other.