India is home to one of the oldest civilizations in the world. In modern times, India is a emerging global power which is known as a tourist hotspot and a IT powerhouse. Today, millions of tourists from around the world visit India every year, to explore its culture, heritage and rich history, among other things.
India is a vast country with all kinds of landscapes, starting from tropical beaches, to high mountains. India also has many islands which are very unique and are very popular with the tourists. These islands are spread across the country and are often visited by domestic as well as foreign tourists.
Here are the top 5 islands of India:
Andaman & Nicobar Islands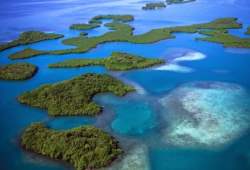 Situated in the Bay of Bengal, these islands are known for their beautiful beaches, dense forests and aboriginal inhabitants who follow a pristine way of life. These inhabitants follow a lifestyle which has been continuing for a very long time. There are many beautiful luxury resorts in these islands which offer world class accommodation to the tourists.
Apart from visiting the beaches and indulging in a wide range of adventure activities, you can also visit other local tourist attractions. You should definitely visit Port Blair, the capital of Andaman and Nicobar Islands. The city has many attractions worth exploring such as Japanese Bunkers, Samudrika Naval Museum, Corbyn's Cove etc.
Lakshadweep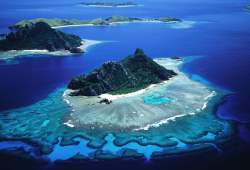 Formerly known as Laccadives, these are a group of islands, which are situated in the Arabian Sea, near the state of Kerala in Southern India. These islands are known for their beautiful beaches, pristine forests and marine life. The beautiful clear and turquoise water of the beaches of Lakshadweep, on the Arabian Sea, are ideal for scuba diving, swimming and other aquatic activities. The local cuisine is something that you should try.
Apart from delicious fish curries, you can also try beef dishes which originated in the state of Kerala in India. Some of the places to explore in Lakshadweep include Kadmat, Kalpeni, Kavaratti Island, Agatti Island etc.
Diu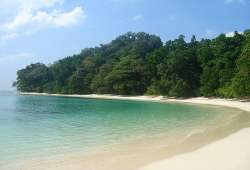 Diu is a beautiful island, situated in the Arabian Sea, near the state of Gujarat in Western India. It is a part of Daman & Diu, a union territory of the Republic of India. The island was once a Portuguese territory and it still retains the grandeur of its colonial past.
The most popular tourist attractions in Diu include the Nagoa Beach, Jalandhar Beach, Diu Jail, and Sea Shell Museum etc. You should also explore the old forts and churches built during the Portuguese rule, Hindu temples, beaches etc. The cuisine of Diu is also very unique and it is a mixture of Portuguese and local Indian cuisines.
Srirangapatna
This is a historical island, which is situated in the Southern State of Karnataka in India, near the city of Mysore. It was the capital of Tipu Sultan, one of the mightiest rulers of South India. You can easily reach Srirangapatna from either Mysore or Bangalore. It is a river island which houses many historical monuments, buildings and religious places.
The most popular attractions in this island include Tipu's Summer Palace, which is now a museum; Gumbaz, a beautiful mosque built during the British rule and Tipu's Death Place, the place the mortal remains of Tipu were found.
Majuli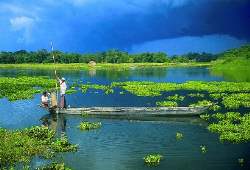 Situated in the state of Assam in India, it is one of the largest river islands in the world. Surrounded by the mighty River Brahmaputra, the island is home to indigenous people who are known for their culture and religious practices. The local temples and paddy fields are the key attractions of this island.